I turned a page ... and the summer was over.

August marks the start of autumn, and each year as I change the calendar from July to August it catches me by surprise.

Summer is technically over, but what a summer it was!


Those humid 'dog-days' of July, filled with the sound of insects as I watched the emerald-coloured Beautiful Demoiselle damselflies fluttering over slow-moving rivers. The colours on their wings and bodies almost defy description, their metallic bottle-green bodies contrasting with dusky ash-brown wings....

A full moon rising over the Wicklow Mountains against a sky of pastel peach and smoky-blue, contrasting with the darkness of the nearby pine forests....

Whinchats, small Robin-sized birds which spend the summer in Ireland, feeding their young amongst the rich coconut-scented gorse bushes alongside fast-flowing mountain streams; their 'chak' calls as they perch on these 'whins' revealing the origin of their name....

My first sighting of a Comma butterfly, its rich orange-brown wings with dark spots an arresting sight as it perched on the rich vibrant orange Heleniums in my garden.

A summer of colours, sights and scents ... enough to fill a book, yet all over the course of just a few brief months; months that seemed to have passed by with the regularity and speed of a meandering river. Watch a river and you see time passing; like the river, it does not stop. We, on the other hand, can stop and see the wonders that the passing seasons present to us; like unexpected flotsam on a tide.

Yes, the page has turned, and the season has changed, but I eagerly await the coming wonders as much as ever.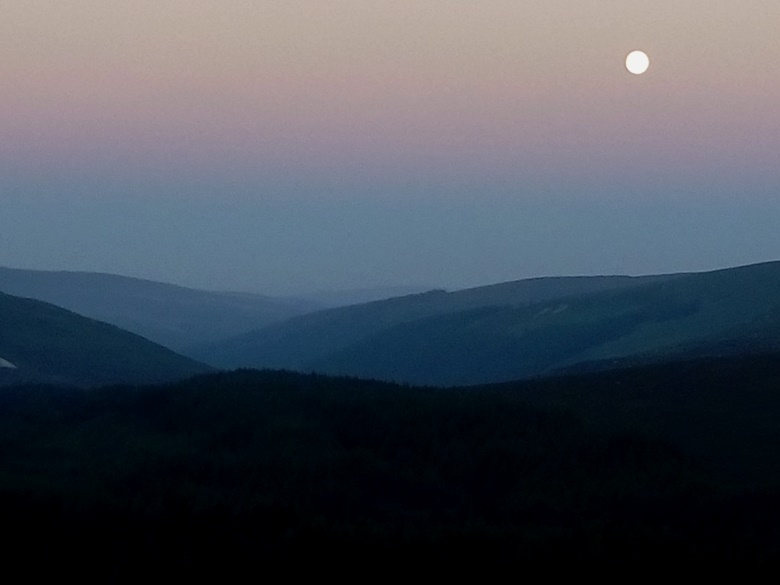 Wicklow Moonrise